President's Message - September 2018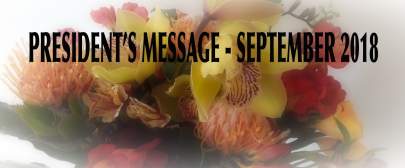 As spring segues into summer, it is probably a good time to both look back and reflect on the past few months and also to look forward to what lies ahead. Since I posted my last message, I have been having some enforced rest (due to a broken leg), but have also managed to get around the country quite a bit. A knee scooter was invaluable on my trip to Invercargill to celebrate Wyndham Floral Art Group's 50th Anniversary. The members put on a spectacular display in the foyer and hall, hosted a lovely afternoon tea for guests from all over the lower part of the South Island and supported me while I demonstrated a few designs. After that it was Auckland for a WAFA NZ meeting, Wellington for an Academy of Floral Art weekend, Blenheim for an Area Day and tutoring and finally back to Auckland for more Education and Management Board meetings. Fortunately the next two months appear to be a little quieter on the travel scene.
2019 Conference and AGM – Palmerston North
There has been much discussion on the format of the Conference and AGM in Palmerston North in early May 2019. Sadly we have had to cancel the proposed Demonstrating Unit tests as the theatre options were not suitable. However there is still a lovely programme of events and the local committee have been working hard to co-ordinate everything. There will be the national Designer of the Year competition as well as other competitive classes. These, along with the Area designs, will form the basis of an exhibition which will be open to the public. Keep a look out for the Show Schedule which will be circulated with the Conference Brochure.
WAFA India
Another brochure/schedule which we are eagerly awaiting is that of the WAFA India show - 'A Grand Floral Affair'. It will be held in Jaipur 26th Feb to 1st March 2020. We have the itinerary which lets us know what will be happening on each of the days, so if you are hoping to go to India and compete, or just visit, now is the time to start planning! We have been told that the Show Schedule will be out in October.
WAFA New Zealand
The WAFA NZ Management Committee has also been busy. New Zealand will host WAFA (World Association of Floral Artists) between 2020 and 2023 when we take over from India. WAFA NZ has now achieved Incorporated Society status, a Constitution has been written, a bank account opened and a feasibility study on three potential venues in three different cities has been carried out. FASNZ Management Board approved the selection of Auckland as the venue for the WAFA Show in 2023. Budgets for both the World Show and the Seminar were also presented to FASNZ Management Board. The Seminar, which will be attended by invited guests from around the world, will happen in the South Island and it is well into the planning stages.
Currently WAFA NZ exists on a repayable loan from FASNZ. We have received some donations from clubs around the country, but to continue with our work we need more! If every club in New Zealand were able to donate even $150 per year until 2023, it would be lovely. This money could be raised by hosting a special event for WAFA NZ; perhaps just a dedicated raffle, or sales table. It would be a lovely way for your club to show their support and to help create an amazing world class show here in New Zealand.
We also need a person to volunteer to assist with the preparation of graphic design materials for Printing and Publication. Please contact me if you know of anyone who may be able to help the WAFA NZ Committee in this role.
Three members of the WAFA NZ Committee attended a meeting with MPI in Wellington; they were very pleased to have the early 'heads up' with respect to the world show and will prepare a helpful guide for all the overseas competitors/exhibitors. It will be a very interesting exercise controlling our flowery friends' imports!
Continue enjoying your designing and having fun with flowers.
With my very best wishes,
Janthia Holt
President FASNZ
Chair of the WAFA NZ Committee