FASNZ Members' Trip to WAFA Hyderabad and the Cochin Workshops
Nancy Murphy recounts the experiences of FASNZ members at WAFA India 2018 Seminars
WAFA Hyderabad
New Zealand was delighted to be able to have more attendees at the WAFA India seminar than normally allowed:Sharon Benton, Christine Endean, Lynda Leary, Pauline Luxton, Marguerita McBeath, Chhaya Pharbu, Marion Shaw, Lorraine Usher and I were all offered a place.
The eight North Islanders flew out on February 15th and met up with Lynda in Singapore for onward flight to Hyderabad. We arrived at midnight; the roads were still quite busy and there was an amazing cacophony of sound.
We had almost two days to condition ourselves to the heat outside but cold inside and a little retail therapy was necessary! It was wonderful to catch up with friends and associates from previous seminars and world shows and new friendships were cemented during bus trips and workshops.
This WAFA seminar was divided between Hyderabad and Cochin and, due to a 15kg luggage restriction on flights between cities, workshops were scheduled for the latter part of the seminar.
Surprisingly, one morning at breakfast we noticed many Indian artisans sitting on the ground with piles of flowers around them. They were the local wedding florists, mostly men, and they demonstrated many designs, the majority being bridal accessories. They happily let members try to accomplish the intricate workmanship on display.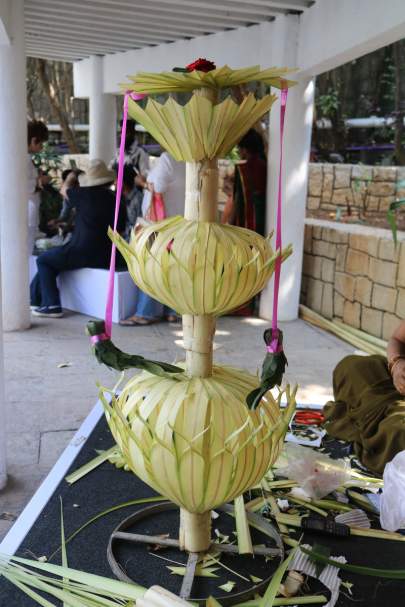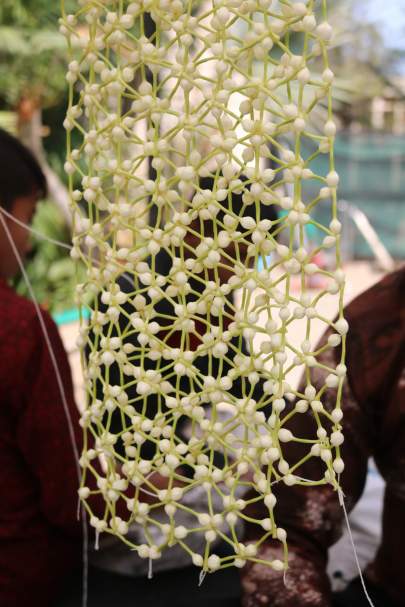 Within the first two days, time was allocated to complete each country's floral item for the International Parade. In the past each country had been asked to create a design which was representative of their country. India chose to be more inclusive and rather than the one design, up to six pieces could be prepared.
Marion Shaw had been given the honour of creating the international design so it was deemed that she should take responsibility for the organisation and presentation. Pauline Luxton, Marguerita McBeath and Marion set about preparing cloaks to represent aspects of New Zealand geography and industry. Lynda Leary joined them later with her interpretation.
Lorraine Usher undertook to do the commentary and Sharon and Christine photographed the evening's entertainment. Marion's photograph appeared in the local paper as part of a centre spread and caused much pride and excitement among the seminarians.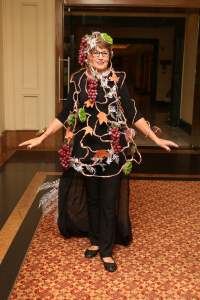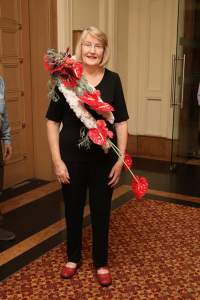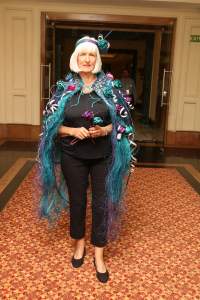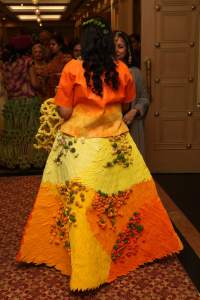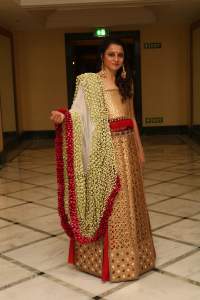 Bus trips to local places of interest extended our knowledge of the city of Hyderabad and its environs and every event was of major proportions, transporting 144 people plus the 10 committee and various helpers, tour guides etc.
Meals on route were interesting to say the least. Lorraine and I had been advised to be vegetarians whilst away and this was very sound advice as often, by the time the hordes were fed, dishes were lukewarm.
Cutlery was always requested and we carefully wiped our banana palm leaf plates. Once the Kiwi contingent started it, the idea spread like wild fire. In hindsight it was probably a waste of time. Later in the tour a committee member said to me "We use our hands to eat because we know where they have been, cutlery not so". Food for thought?
Days passed quickly and it was time to pack the bags and fly off to Cochin.
The Cochin Workshops
The FASNZ Group travels on to Cochin and Nancy Murphy continues her story …
WAFA India must be commended for their organisation – they successfully managed registrants, committee, administration requirements and workshop needs. When it was time to commence workshops, generous boxes of interesting materials awaited us and we opened them with great anticipation.
One workshop used Shola Pith – a dried and prepared material cut from stems of the Aeschynomene plant. My knowledge of pith helmets worn by the British Military was a small introduction to the use of this product, but the wedding head dress exhibited was magnificent and the beautifully created lotus-like flowers and leaves were a firm favourite.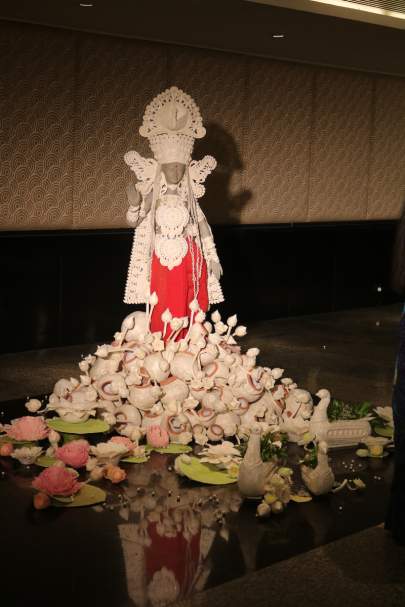 Another workshop featured Gota – fabric and ribbons made from gold and silver thread which were crammed into our material boxes for the workshop. Many components resembled our Christmas baubles and a wire component was to be covered in the ribbon with a twist. The designs created would grace any New Zealand Christmas table.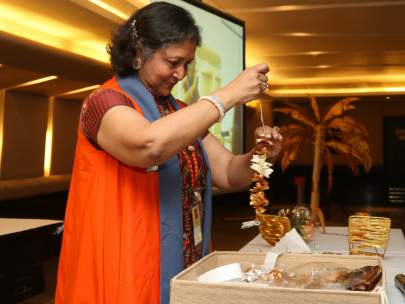 The afternoon tour took in The Maharajah's Palace for high tea and part of the entertainment was a display of wedding saris created with Gota. They were beautiful and obviously very expensive.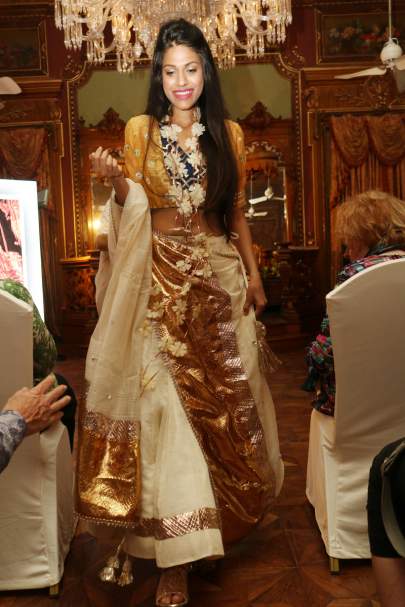 The Spice Workshop boxes contained so many of the spices we had seen in the various markets throughout our bus tours. We were encouraged to create sand saucer type landscapes. The teacher's demonstration showed spices for thatching and palm tree construction (very fiddly and challenging for some tired fingers).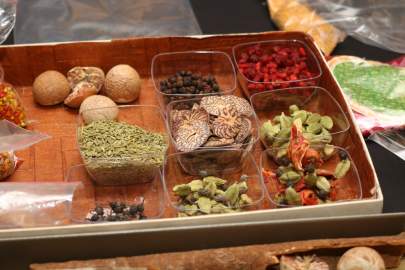 For the Jute Workshop we were provided with a jute bag with tools, components and various types of processed and raw jute, it was fun to investigate and design with.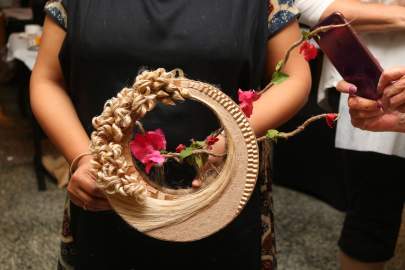 The final night was Bollywood themed and the highly decorated dining hall was amazing. Committee members and helpers decked us out in finger jewellery, which is a bridal custom. A tuktuk covered in bright marigolds afforded photography opportunities along with other garlanded objects.
Before dinner every participant was presented with an attendance scroll and during the rest of the evening Indian dance troupes entertained and inevitably we all joined in.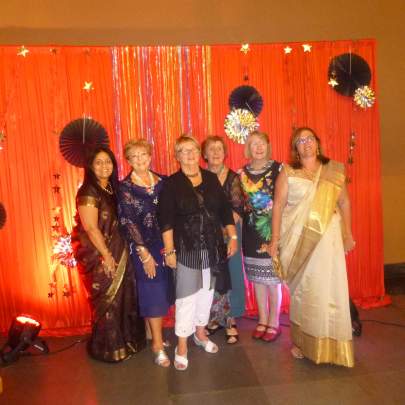 This was a very enjoyable Seminar, the WAFA India Committee ensured our full participation and their generosity was overwhelming. We wish them every success with the World Show in Jaipur (The Pink City) in February 2020.