FASNZ Conference 2023, Hamilton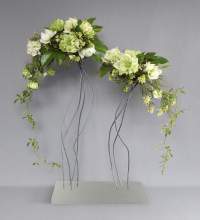 After three years of Covid disruptions, and two cancelled conferences, it was wonderful to have the opportunity for floral friends to get together and show off their artistry. Although this was a slightly slimmed down conference compared to previous years, it was nevertheless three days full of energy, creativity and activity.
Among the many highlights of the Conference we were thrilled with the design excellence exhibited in the triennial Designer of the Year competitions, the Diary 2024 award-winning designs and the Innovate 2023 demonstrations; we took part in learning opportunities through workshops and education sessions; we had a chance to put forward our ideas for the future of the Society at the AGM; and we renewed old friendships and made new ones.
Southwell School, with its beautiful grounds and excellent facilities, provided us with a wonderful venue for all the conference activities, and having refreshments and lunches on-site was an added bonus.
Congratulations to the Organising Committee, competition entrants and winners, demonstrators and tutors, and every club member who chose to come along and enjoy the festivities. It was a great event!
Area Designs