2020 Mother's Day Designs
The national Lockdown response to the COVID-19 Pandemic resulted in Hibiscus Coast Floral Art Group being innovative with designing at home for Mother's Day and members sharing their creations through the internet. Staying connected while keeping to the isolation requirement.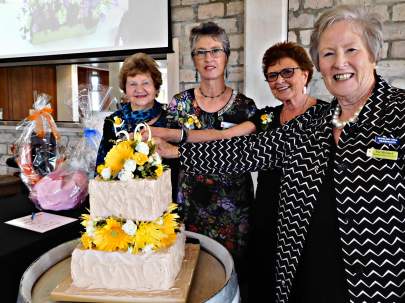 Celebrating 50 Years
Congratulations to the Hibiscus Coast Floral Art Group, which celebrated its 50th Anniversary with a Luncheon (with exactly 100 guests) at the Boat House at Riverhead Tavern on 19th June, 2018.
This special event began with a mix and mingle of Hibiscus Coast members past and present, guests from the grater Auckland area, special out of town guests and was followed by a floral demonstration, then the luncheon.
Members staged a floral exhibition of designs through the decades accompanied by information panels listing club, country and world highlights for each decade.
Some of the high points were: at the inaugural meeting Jenny Symes was elected as the first President and ten years later the first Life Member, a function in 1970 with two guests from England attracted 200 people at a price of $1.50 per ticket; the first show was held in 1976 called Primary Products; in 1983 the annual subscription was increased to $4 and the FASNZ diary cost $3.50; further life memberships were awarded in 1981 and 1996, club members featured in the gold and bronze awards at the Ellerslie Flower Show in 2001, 2001 and 2005 and were winners of the Auckland Area Designer of the Year Competition in 2006 and 2012; in 2018 club member and patron Colleen Woolf was honored for her work for the club with the Muriel de Stefano Award.
The highlight of the anniversary celebration was the captivating demonstration by Vanita Patel. Vanita created five stunning designs using a wide variety of foliage and flowers, while relating stories of how she acquired her unusual collection of containers and accessories.