Pukekoe Floral Art Club
Pukekoe Floral Art Club supports Franklin Hospice Garden Ramble
Victorian Country designs fill this historic church for a Hospice fundraiser.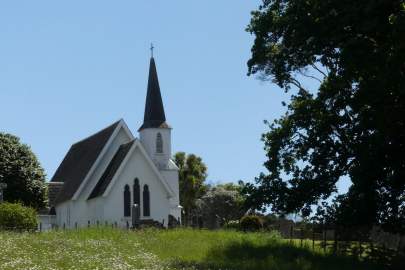 The Floral Art Club of Pukekohe were thrilled to be asked to decorate the lovely historic St Brides Church in Mauku for the Franklin Hospice Garden Ramble, a fundraising activity held in the middle of November last year.
With such a beautiful church it was no problem getting all the members on board to create more than 50 individual designs to fill the church in a Victorian Country style. It was held at the most perfect time of the year with the members' gardens full of early summer flowers and foliage. A local flower grower, Blooming Hill, supplemented these with buckets of colourful roses.
We created garlands for the altar rail and Victorian posies in handmade containers for all the pews. The ornate windows were filled with traditional designs and the font looked magnificent in pastel roses and lilies.
More than 400 people came through the church during the two days to take in the fragrance and beauty of this lovely old building built in 1861. This was a perfect event for both our newer members and experienced designers to enjoy creating something stunning for the public to enjoy.