Takapuna Floral Art Club
October 2020
Takapuna Floral Art Club
1975 – 2020
Celebrating 45 Years
Members and VIP guests gathered to celebrate this milestone of our Club in October 2020, following postponement during the year due to COVID-19. This memorable day was celebrated with a catered luncheon at tables suitably decorated with lavender flowers and olive foliage.
Nineteen competitive designs were staged around the venue. These were judged by Margaret Ashley, Area and FASNZ Life Member, and the coveted Lorraine McMillan Trophy was awarded to Ann Rose.
Our Patron, Colleen Woolf led speeches by Life Members of the Club who recalled the many highlights of the Club over the past forty-five years, as well as the achievements of its members.
An historical slide show of some 250 pictures rolled on a screen during the event. Club member Carol Hogg made and decorated the celebration cake, which was cut by President Sue Gardiner, Patron Colleen Woolf and foundation member Myf Armstrong. After the delicious lunch, President Sue Gardiner awarded Honorary Life Membership of the Club to Ceinwen Jansen and Lorraine Usher.
A wonderful occasion to celebrate 45 years.
Takapuna Floral Art Club
October 2018
'Crafty Quilts and Floral Art'
A demonstration by two Takapuna Floral Art Club members at the Club's October 2018 meeting was a delightful way to showcase a crafty 'Allied Art' together with Floral Art. Eunice Francis, a keen quilter for many years, and Maria Baxter, FASNZ certified Teacher and Judge, teamed up to deliver a most entertaining display of unique quilts and coordinated floral designs. Narration included stories about the background and construction of each handcrafted heirloom.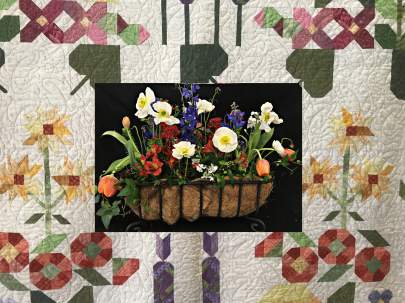 Takapuna Floral Art Club
September 2018
Takapuna Hosts Clement Lee
A vibrant atmosphere was clearly present through out the day in September 2018 when Takapuna Floral Art Club hosted a demonstration by well-known Australian designer Clement Lee. With 20 years of floral experience, numerous qualifications, and a long list of Interflora awards, it was a privilege for TFAC to share this special demonstration experience with over 200 FASNZ members from all over the greater Auckland Area and beyond.
Clement's demonstration showcased the European Influence in design style. He expertly shared his knowledge of the three recognized classification of this style; Decorative, Vegetative, and Form Linear while creating 8 design examples. He also continued to make reference to the Elements of Design and remind the audience about the importance of Line, Form, Texture, Space, and Colour. The Principle of Proportion was also emphasized by discussing the magical numbers 3,5,8 and how they relate to a design.
While all of this information was very instructional, it was presented in Clement's own smooth style and punctuated with a vibrant laugh so infectious that everyone in the audience couldn't help but join in!
Takapuna Floral Art Club
August 2018
The Title for the August club competition of the Takapuna Floral Art Club was "Double the Effect" and the schedule required a two placement design. Competitors met this challenge by providing a wide variety of designs which were staged both from the floor and table top.
Takapuna Floral Art Club member, Lorraine Usher, provided the afternoon's entertainment by providing an excellent demonstration featuring original structures and staging along with colorful flower combinations.
Takapuna Floral Art Club
July 2018
The TFAC July 2018 Club Competition title was "Bare Essentials" and this title produced various and interesting interpretations. The Club Day also included an entertaining demonstration by member Raewyn Thomas.
Takapuna Floral Art Club
April 2018
The TFAC April 2018 Club Competition title was "Trendy Techniques" (Shown here are Close-up images of some of the techniques used)