President's Christmas Message 2018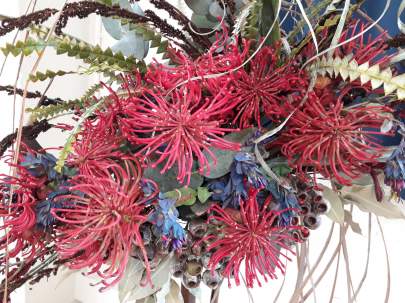 Happy Christmas 2018
As we approach the end of 2018 it is, perhaps, time to reflect on the year.
For me the highlights have been meeting up with our FASNZ members from throughout the country. I have been privileged to travel down to the deep south to help celebrate Wyndham's 50th Anniversary, north of Auckland for Hibiscus Coast's 50th, west to Buller for workshops, and Palmerston North for conference planning and celebrating their designers, as well as east into Marlborough for workshops and fun with flowers. Everywhere I feel the joy and happiness which comes with working with plant material in all its wondrous forms. I see our members sharing their hard work and delight; and then revelling in the pleasure the flowers offer.

The detail of the design at the top of this page was created by Linda Welch of Marton; her attention to detail even extended to using nail varnish to emphasize the colour of the warratahs. Linda is a relative beginner, only just at intermediate level. We must make every effort to encourage our new members and see them flourish in the years to come.
On Waitangi Day it was an honour to attend the celebrations at Government House in Auckland. Our Patron, Her Excellency, The Rt Hon Dame Patsy Reddy, GNZM, QSO, Governor- General of New Zealand, will be attending the opening of our AGM and Conference in Palmerston North in early May. I do hope that many of you will come and enjoy the Trends and Techniques presentation by Jean Shine from Australia, the workshops, competitive designing for an exhibition, tours and even more fun with flowers.
With my very best wishes for the festive season and A Happy New Year for 2019
Janthia