President's Message - June 2018
It was a very busy week in mid-June that saw both the FASNZ Education Committee and Management Board meet in Auckland. Much was relatively routine work –accounts do have to be approved and test papers written – but there are always highlights:
FASNZ 2019 AGM & Conference
The discussion on the AGM and Conference 'Te Manawa', to be held in Palmerston North in early May 2019 provided several. A guest floral artist from Australia has been invited to come and present a Trends and Techniques session as well as tutor workshops; Demonstration Unit candidates will be taking Module 3 of the Unit at the Globe Theatre where we will be wowed by their designing skills and creativity. It is wonderful to see our members going ahead with planning their demonstrations. My best wishes go to all of them. There will also be the National Designer of the Year Competition and I know that many FASNZ Areas are already planning their own DOY competitions to determine which of their amazing designers will compete nationally. In addition there will be competition classes to support an Exhibition at the Palmerston North Conference and Function Centre. Workshops will be available for our members, some tutored by our Australian guest, and a non-floral extra will be a session presented by Bronwyn Groot; Manager, Financial Education, Commission for Financial Capabilities and who works in conjunction with the Fraud Squad and NZ Police. She will have some valuable insights into dealing with on-line hassle, fraud, scammers etc.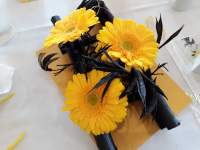 Hibiscus Coast Floral Art Group's 50th
Almost immediately after the meetings I was honoured to be invited to attend Hibiscus Coast Floral Art Group's 50th Anniversary celebrations at Riverhead. So much thought and planning had gone into ensuring that everything ran beautifully smoothly, and efficiently. Vanita Patel's demonstration resulted in some gorgeous designs and members had also contributed by designing through the decades. Add to that great food and great company; what more could one want? It was a total delight. Thank you!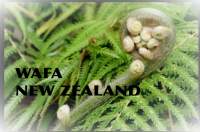 WAFA NZ
We have a meeting of WAFA NZ coming up in mid-July. Currently we are existing on a loan from FASNZ and I know that clubs throughout New Zealand will want to support our efforts to present both a Seminar and the WAFA Show. Several donations have already been received from Clubs and Hibiscus Coast FAG made the very generous offer of selling their black and gold table designs and raised $240 for WAFA NZ. Our thanks to you all. If every club could hold at least one WAFA Day each year it would be so helpful. Perhaps a 'Waffles for WAFA' afternoon tea, could be organized? (Thank you to Margaret Ashley for that suggestion!) Does anyone have any other bright ideas? Please let the WAFA NZ Secretary know.
WAFA NZ is now an Incorporated Society and we are applying to the Charities Commission for charitable status. We have a written constitution and budgets for all the Portfolio holders have been prepared. So much has been achieved in just six months.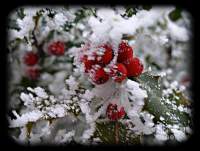 It is now firmly winter here at the top of the South Island. The mountains look so beautiful and the ski bunnies are happy; my dogs love rolling in the frosty grass and I have the wood burner well stoked! I do hope that you are all managing to stay warm, dry and healthy.
With my very best wishes,
Janthia