President's Message - May 2018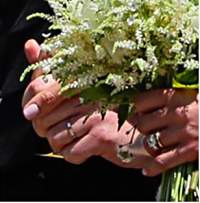 What an amazing day for flowers on the world stage! Prince Harry's wedding to Meghan Markle showcased huge archways in the ever refreshing green, cream and white colourway that everyone loves. Huge structures overarched doorways and the rood screen in St George's Chapel at Windsor as well as winding their way up the steps to the main door. I would have just loved to see the mechanics and the framework upon which the flowers and foliage were based.
Meghan (now to be known as the Duchess of Sussex) carried a simple but effective posy of flowers which complemented her stunning dress. Apparently it consisted of white Forget-me-nots (Diana's favourite flower), Myrtle (a royal tradition), Lily of the Valley (sweetness and happiness), Astrantia (strength, courage and protection), scented white sweet peas (appreciation) and Astilbe (patience and dedication) all bound with naturally dyed green silk ribbon.
Meghan's train was embroidered with lace flowers from the Commonwealth countries around the world, in addition to Californian poppies. The flower used to represent New Zealand was the Kōwhai.
On our world scene, WAFA New Zealand is now an Incorporated Society…..another step forward in the ongoing processes towards hosting the WAFA Seminar in 2021 and the World Show in 2023. We may not be staging flowers on quite such a massive scale as a Royal Wedding for the individual exhibits, but they will be stunning and representative of the whole world.