Website Officer's Newsletter - September 2018

To: FASNZ Area Representatives
Date: September, 2018
From: Geri Nielsen, FASNZ Web/Facebook Officer
First, I would sincerely like to thank everyone who has submitted content to the Facebook and Website over the last 3 months. It has been a pleasure to receive the news about what our clubs and areas have been doing and to be able to share it with the wider floral art community through FASNZ's media platforms. Please keep them coming!
Also, thank you to all who participated in the Website Questionnaire. The FASNZ Management Board has carefully reviewed the results and comments and a full reporting will be forthcoming. Many of the comments were found to be useful and some will be implemented within the coming weeks.
Having recently met with the FASNZ Management Board it was suggested that I periodically send out a communication directly to the Area Representatives. Therefore, I have prepared this Newsletter format that I will release from time to time to update Areas regarding the Society's digital media. This information can then be distributed further to your individual Club representatives.
Viewer Engagement Both the Society's Website and Facebook page have steadily grown in viewer engagement. It is exciting to see that both media platforms have received increasing viewer participation not only from within our own membership but also with the general public here in New Zealand and Internationally. Posts on Facebook have often been 'liked', 'commented' on, and 'shared' among other floral art communities here and abroad.
Posting and Publishing Policy: A standardized policy for the sequencing of content to be presented in FASNZ media has been established. Photo images of Club and Area events of significance (DOY's, Anniversaries, etc.), will be posted on Facebook in a timely manner immediately after the event. However, the publishing of these items will only be published on the website after they have appeared in Floral Focus magazine.
Submitting Event Items for the Calendar Page: Many Clubs and Areas are taking advantage of the Calendar page of the website as well as the Event Advertising aspect of the Facebook page. However, I am sure that there are some Clubs/Areas which are not submitting their event notices for posting to the Society's website calendar and more participation would be welcome. One thing to keep in mind, when submitting events for the website Calendar page it is best to include some sort of a poster or document which includes all the details of the event. This is because the space allocated for each day on the calendar is only large enough to include the name of the event and the Club/Area. When the viewer clicks on the underlined name of the event, the site will automatically bring up or download the poster or document showing the complete details.
Improving Photo Quality: We truly have some very talented artists in our Society who produce wonderful floral art. However, often the photos taken and submitted for posting do not show the designs to their optimum because of very busy backgrounds. This problem can easily be solved with the following simple method;
Materials needed;
- 2 metre piece of neutral coloured fabric (light grey/off-white works well and preferably wrinkle resistant).
- A wooden dowel or old broom handle
Method:
- Attach the fabric to the dowel or broom handle (either glue, nail, or make a sleeve)
- Ask for 2 'tall' volunteer members to help hold up either end of the dowel/broom handle behind the design.
(Note: this device is easily rolled-up onto the dowel/broom handle for easy storage or car transport.)
- Photos can be submitted with 'volunteer helpers' showing as they can be edited out of shot by Web/Facebook Officer.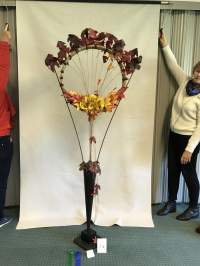 Digital Archive for Each Area and Club's Submissions: The new FASNZ website is continually being expanded as new content is added. Please encourage your members to go into the site regularly to check out what's been added. In particular, each Area and Club will be establishing their own individual 'Subpage' within the Regional Gallery page as content from the Area or Club is submitted for publishing. In other words, you can tell your members to view the winning designs from your Area DOY on their own Subpage on the FASNZ website. Therefore, knowing that your Club/Area now has its own individual 'spot' on the Web to showcase the talent of your members, don't miss out! Get prepared before your upcoming DOY event, construct a backdrop, appoint a photographer/helpers, take some excellent photos, and submit them to: webofficer@fasnz.org.nz. I look forward to hearing from each of you.