Tutorials
Learn new styles and techniques with these step by step guides.
European Style of Design – Form Linear
Tropical Paradise - A Step by Step Tutorial
by Vanita Patel
Flair: "A European style of design in which the silhouette of plant material is paramount."
Hints and Tips:
Form Linear is one of three European styles of design.
The natural form of all the plant material, the silhouette and uniqueness must be paramount.
The design is well balanced all around.
No manipulation is permitted in this style of design.
Over grouping could lead to a design lacking space and rhythm.
Requirements:
• Low ceramic container
• Wet floral foam (to fit firmly in container)
Plant Material:
• Monstera tropifolia leaves
• Strelitzia leaves and flowers
• Anthurium leaf
• Dracaena mahatma palm
• Philodendron xanadu leaves
• Fatsia japonica leaves
• Moss to cover floral foam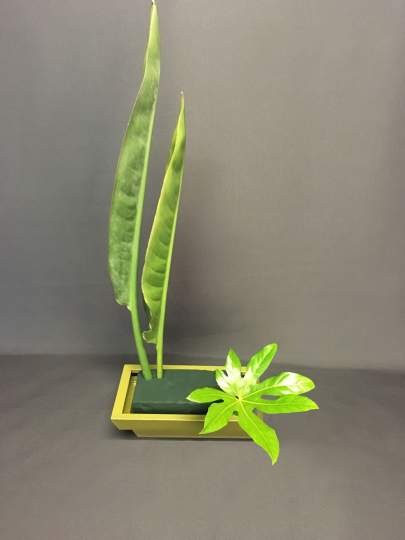 Step 1.
Fill container with wet floral foam extending just above the rim of the container.Two Stelitzia leaves are placed vertically to give height and visual line. A Fatsia japonica leaf is placed to the front of the container.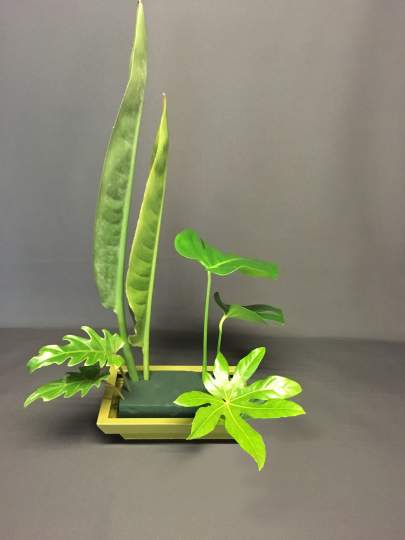 Step 2
Shadowing technique of the two Philodendron xanadu leaves and two Monstera tropifolia leaves has achieved a three-dimensional effect.
Step 3
Place one Fatsia japonica leaf to the back behind the Strelizia leaves to give depth. The palm is placed on the right for balance and to give a tropical appearance and add contrast of texture.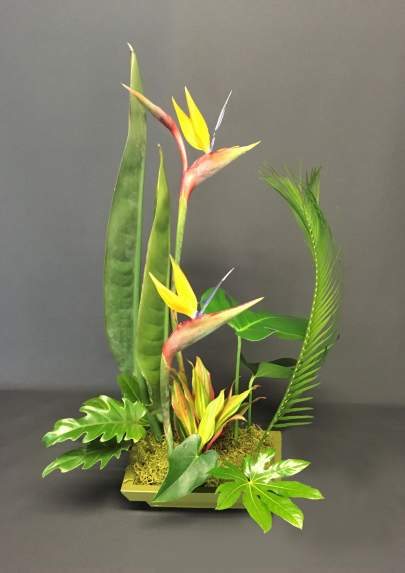 Step 4.
Place the two Stelitzia flowers to support the vertical line. Add the Dracaena mahatma at the base under the flowers.Complete the design by placing one Anthurium leaf to the front and cover the floral foam with moss.