Tutorials
Learn new styles and techniques with these step by step guides.
Freeform Style of Design
by Heather Hammond & Linda Barnett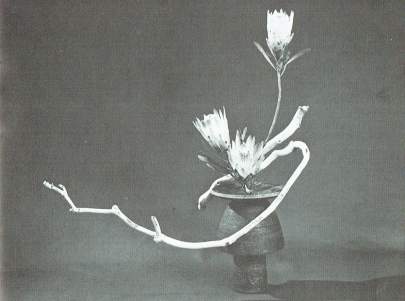 By Jean Taylor (1973)
'Flair' Definition: A creative design inspired by nature's sculptural forms. It is strongly three dimensional, with interest dispersed over the whole, emphasising the element of space. Natural growth patterns are followed. (No manipulation of plant material permitted.)
Design Concept Category: Modern concept design but using natural materials.
Spirit: Of nature. Free. Creative. Three dimensional. Uncomplicated.
Design Characteristics:
• The essential character of Freeform is an uncluttered design in which nature's forms are seen as being free in space.
• The design should be able to be viewed all around.
• The materials should be carefully chosen for their design qualities (line, form, texture, colour, pattern) and the contrasts between those materials.
• Restraint in the varieties of plant material chosen with no transitional material used.
• Crisp, uncluttered pure forms shown in isolation.
• Artificial colouring, manipulation etc should not be used in Freeform design.
• It is not necessary to have one centre of interest, but plant materials should give the impression of radiating from one point. The design may have more than one pause point.
• Shape and form of the plant material dictate the line, and the outline is non-geometric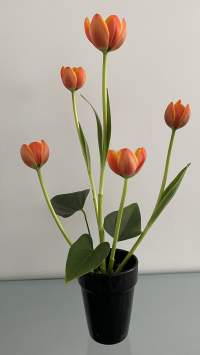 By Fay Edgecombe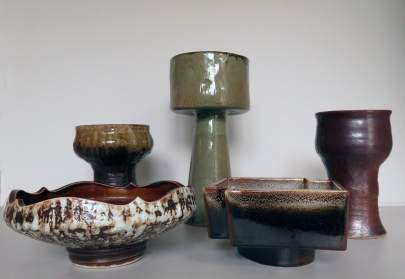 Containers: A modern concept design requires a modern concept container, but one which reflects the spirit as above.
Metal stands, cylinders, modern glass bowls, pottery, and earthenware are all suitable. Similarly, a container from nature (driftwood, kelp, wood burl etc is also suitable.) The container chosen should complement the unity of the design.
Mechanics:These are usually minimal. Floral foam is not suitable.
A pin holder covered with a small amount of moss or pebbles etc is
usually ideal. Any mechanics may be used, but should not be visible eg
test tubes.
Plant materials:
Use of materials should be restrained. A total of 3-4 different materials is
usually a maximum, with a minimum of each being used. These should be chosen carefully for their contrasts, particularly of form and texture.
Rhythmic materials can be very effective, especially natures 'freaks' (eg
fasciated stems, twisted leek or onion, kelp etc).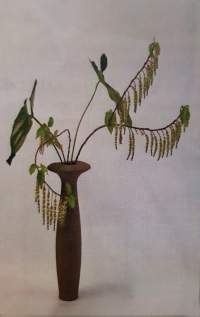 By Heather Hammond
By Barbara Higgins
Accessories:
Are NOT suitable, except perhaps something of nature such as stones etc.
Other: Elevation can be beneficial as it gives a better clarity of 'forms in space'.
Balance overall is very important, as well as the balance between the different materials.