Tutorials
Learn new styles and techniques with these step by step guides.
Step by Step - Counterbalance
'At Arm's Length'
by Sue Gardiner
Materials required:
1 x metal spike 500mm high with a pointed end
Paint for metal spike
1 x polystyrene board 80mm wide x 500mm long x 20mm thickness
Suitable colour of water base paint for polystyrene board
1 x floral foam sphere 100mm diameter cut in half
1 x 1.6mm x 900mm Ferox rod or panel wire
Roll of Raffia
Sewing and decorative pins
40mm mossing pins
Stem-tex tape
1 x wooden satay stick
Plant Material:
6-7 Clivia leaves Clivia flowers
Clivia roots
(Alternative plant material is listed below.)
Method:
Step 1: Stand
Paint the metal spike if desired. Pierce the base of the polystyrene board in the centre with a satay stick ready for the spike. Carefully push the board down onto the spike.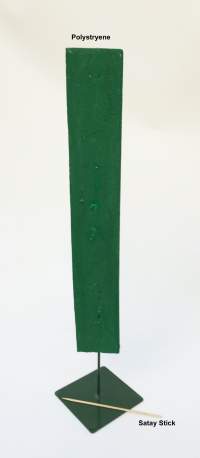 Step 2: Leaves
Pin the leaves onto the polystyrene board in vertical lines. Secure at top, bottom and middle with sewing and decorative pins. Extra leaves can be curled and pinned to make a feature. Trim top vertical leaves at an angle. Trim bottom of leaves straight.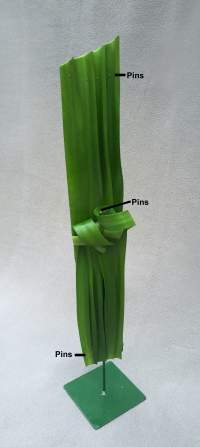 Step 3: Extension Arm
Cover the wire with Stem-tex tape and bind with raffia. Shape and curl into a wavy line.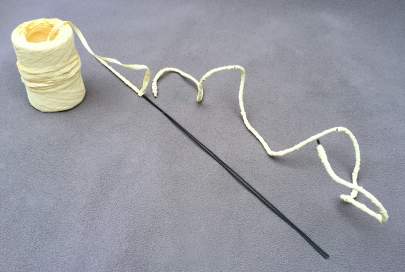 Step 4: Flower Holder
Cut the floral foam sphere in half and soak. Cut leaves long enough to wrap vertically round the foam and hold in place with 40mm mossing pins. Trim the leaves to just above the cut edge of the foam. To finish wrap a leaf round the top and pin at the back.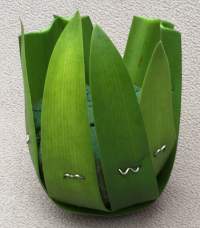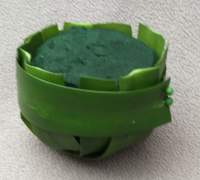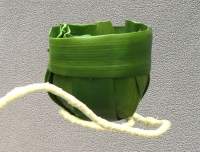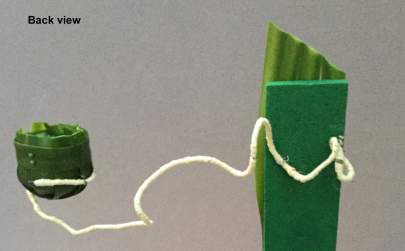 Step 5: Shape Extension Arm
Attach the arm to the back of the flower holder with mossing pins at an angle. Wind arm creatively around the flower holder to hold and support.
Attach the other end of the arm to the back of the polystyrene board with mossing pins at an angle making sure they don't show at the front.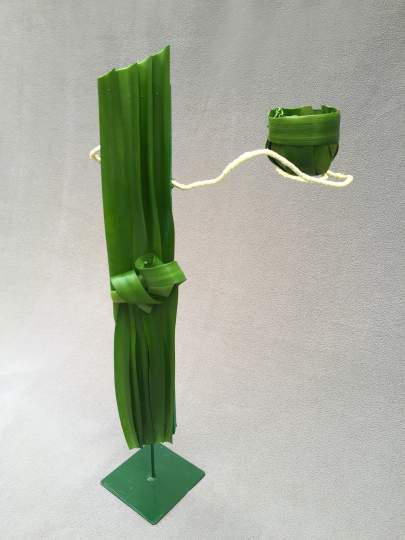 Step 6: Flowers
Place flowers into the flower holder.
Step 7: Roots
Dangle the roots along the arm to complete the design.
Option: Attach roots under the polystyrene board and let them hang down the spike to the base.
Alternative plant material:
Leaves: Phormium, Watsonia, Dendrobium Orchid, Cordyline australis, Dietes grandiflora or similar
Flowers: Azalea, Alstroemeria, Chrysanthemum, Roses or similar
Root/vine: Orchid roots, Clematis or similar