Tutorials
Learn new styles and techniques with these step by step guides.
Technique - Clamping
Definition from Flair: A technique of securing plant material or other components between supports by applying pressure.
Clamping is a versatile technique that can be used as a mechanic or design component.Like many techniques used in modern design, it offers opportunities to use plant material in a different manner to create an original and exciting design. It is a useful technique and as the definition says, it is used to hold fast and tight, the plant material or a design component without the use of wire, pins, glue or other mechanics. It is fastened by pressure, by placing it between the supporting design components.
Careful selection of plant material is necessary when using this technique. It needs to have strength and good keeping qualities as the plant material is usually without a water source. Mature foliage such as Magnolia grandiflora and Camellia are suitable examples. Conifer foliage works well as do branches, sticks, bark.... the list goes on.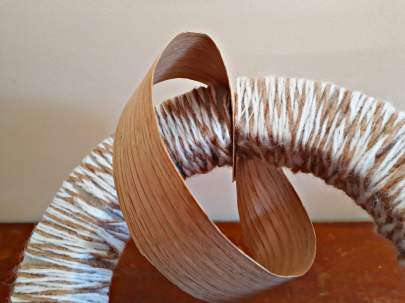 A wool bound polystyrene wreath has a split which holds fast the wood veneer.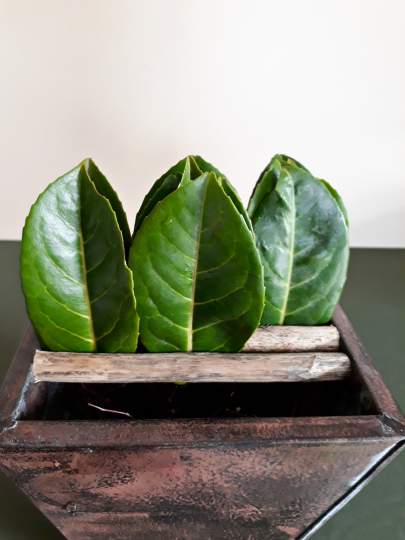 Laurel foliage clamped between dried sticks also clamped firmly into the container.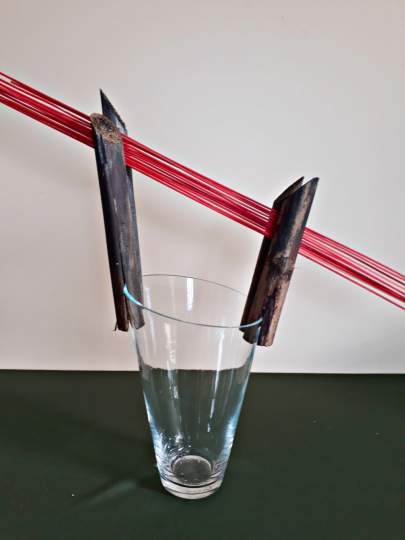 Midelino sticks clamped between dried Phormium tenax flower stems.
The Phormium tenax flower stems are wedged firmly onto a glass container.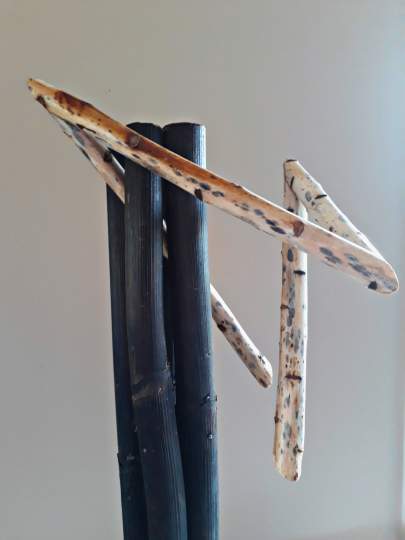 Mitred dried Lilium stems clamped between Phormium tenax dried flower stems.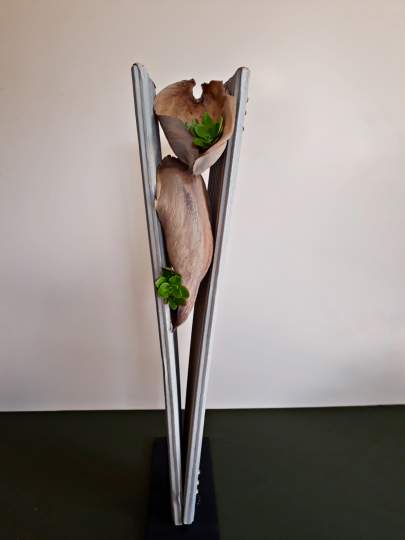 Small dried spathes held firmly between two corrugated cardboard uprights.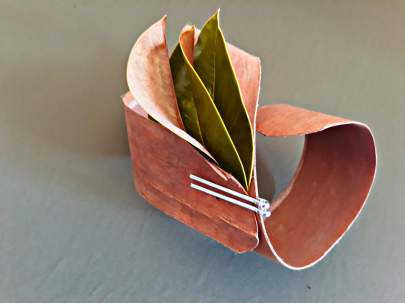 Magnolia grandiflora foliage clamped between Eucalyptus bark with split pins.